About Verruca Needling
Falknor`s needling procedure is an innovative and effective treatment for verruca, which are benign types of the Human Papilloma Virus (HPV) group. It is a form of soft tissue therapy which is intended to break down the verruca and create a controlled inflammatory response which, in turn, stimulates the body's immune system to recognise the virus and destroy it.
Verruca Needling treatment has been around for over 45 years (being first described in a medical journal in America in 1969) and is used routinely with great success by practitioners internationally. It has been reported to be highly effective, even for long-standing verruca.
Verruca Needling is different from other treatment options such as cryotherapy or salicylic acid as it requires only one or occasionally two sessions. This makes it an ideal treatment option for busy people. The treatment is carried out under local anesthetic. Most people report only minor soreness for 2 to 3 days post-treatment.
How does the Verruca Needling Treatment Work?
Verruca Needling works by puncturing the verruca with an empty sterile needle many times, the viral particles are directly exposed to the fatty tissue beneath the skin where the body is rich in immune regulators. Here, the immune system can recognise and destroy the virus. As this immune response is often systemic, treatment of only one verruca is required even where there are many lesions as spontaneous remission can occur in all, or most, verruca at the same time.
What will happen during the Treatment?
There are three stages to the Verruca Needling procedure:
1. You will be given an injection of local anesthetic which will make your verruca and surrounding area numb.
2. Once the verruca is numb, the podiatrist will carefully needle the verrucae to implant the virus into the dermal layer of the skin so that the body's immune system can come into contact with the virus.
3. A dressing will be applied to the verruca once the procedure is completed. you are advised not to drive when the foot or part of the foot has been anaesthetised. Our advice is to get a Taxi or a lift home and avoid walking.
Will it be Painful Afterwards?
Some patients can experience soreness once the anaesthetic wares off. This soreness can best be described as a bruised feeling that can last for up to 7/10 days however most patient describe soreness only for 2 to 3 days after the procedure. Painkillers such as Paracetamol are normally sufficient to reduce any discomfort. Use of Ibuprofen or any other anti-inflammatory medication is not advisable, but you can use Paracetamol.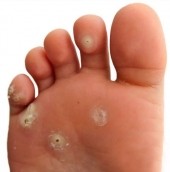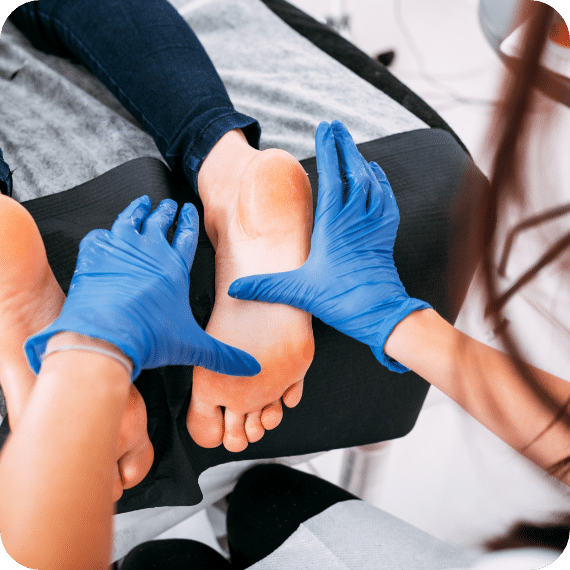 Dressings and Follow Up
Routine post-operative check-ups are put in place for patients by the clinic. Most patients are seen 1 week after the procedure and then 12 weeks after the procedure. Following the procedure, the wound will have to be redressed by the patient daily for up to 10 days. Details of dressings to use will be provided to patients.
Risks and Complications
Although very rare, the following risks have been noted:
• Infection
• Recurrence
• Delayed healing
• Adverse reaction to Local anaesthesia
• Scar tissue
Availability/Suitability
Feet by Pody is pleased to offer this treatment for patients following an initial assessment appointment. This consultation is used to assess whether this treatment is suitable for you.
Cost
The cost of verruca needling is £340, up to 1-hour session (for the procedure) and will include two follow-up appointments to review your condition (7 days after the procedure and then 3 months later). The number of verrucae treated per session will vary depending on the location and size of each lesion. All fees must be paid at the time of the procedure. Further appointments are charged at our normal rate (£65.00).
Should you have any questions, please do not hesitate to contact us on 0207 099 6657 or email: [email protected]
Alternatively, take action today Book Online or by phone 020 7099 6657.