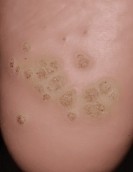 CRYOTHERAPY
Cryotherapy is one of the treatments available to treat a Verruca. Cryotherapy is a controlled destruction of the tissues using very low temperatures, i.e. freezing of the skin. Ice is formed inside and outside the cells, disrupting the cell where the virus is living. The aim is to freeze as quickly as possible so that the cells have no time to defend themselves. Ideally,the treatment ruptures the cells and releases the virus into the blood stream. The body's immune system is then thought to fight off the skin infection.
WHAT WILL HAPPEN DURING THE TREATMENT?
Skin preparation: removing all calluses, dead skin surrounding the verruca.
Freezing:  The freezing can start and. It is usually last few minutes with cycles of application/rest.
Dressing: We most of the time cover the area with a small plaster to keep for the first day.
WILL IT BE PAINFUL AFTERWARDS?
A blister usually develops 24 – 48 hours after the initial freezing treatment. If there is too much discomfort you are advised to take an over-the-counter painkiller. The lesion may also bleed under the skin so forming a blood blister. This may look alarming but ideally, the skin needs to blister to help eradicate the verruca. If you are experiencing any concern before the time of your next appointment, you can call us and we will a review of your progress.
DRESSINGS AND FOLLOW UP
We do not recommend any specific dressing in between session, unless you podiatrist instruct some additional treatment. However, you might find more comfortable to apply a plaster on the verruca to protect it . Do as you prefer.
Some Verrucas are very resistants and may require several freezing sessions, We cannot advise you on how many session you might need.  We like to see our patients every 2 weeks while under our care.
Very through and informative examination to find the cause of the problem and an action plan for correction. Friendly and professional. Very impressed.
Fantastic service and very pleasant inside. Reena is a brilliant podiatrist - she immediately spotted what was causing my pain on the soles of each foot. She patiently sorted it out with her instruments (no pain) and I walked out completely satisfied.
I came for the first time to feet by pody and Shaho really welcomed me in, made me feel comfortable and relaxed. He found the problem and explained the science behind where a corn comes. I would 100% recommend him to anyone with feet problems. I feel like a new man 5 star 👍👍👍
I cannot recommend Feet by Pody enough! They successfully treated and got rid of a longstanding and persistent verruca that I had had for >5 years. The cryotherapy treatment I had was painless and the prices for appointments/ treatments are very reasonable given the high level of care you receive. Huge thanks to Reena Patel who was the chiropodist I have been seeing most recently. She was super professional, efficient and clearly knows her stuff! Thank you again!
Very helpful, informative and kind service. Varsha laid out the treatment options, explained the procedure and aftercare fully, and above all was very kind throughout. Would highly recommend!
The treatment was smooth and effective. Varsha was really kind and patient despite my hearing issues. She was also very reassuring during the sessions. It was a relief to hear that my toes are looking a lot better during the assessment visit. I would definitely recommend her! Thank you again for the help 🙂
ANGELA ARISTIDOU
2021-08-16
Exceptional care AND (very importantly) excellent aftercare! Basically I can say they were absolutely impeccable in their professionalism and care. I absolutely recommend them. I called on a Tuesday to ask for an emergency appointment. I received a call back immediately by the podiatrist (not an assistant). The podiatrist took great care with the prior history, and offered an urgent appointment on Wednesday. We decided to remove the nail. The surgery was painless, and the aftercare support brilliant. - I was given a What'sUp number to reach the podiatrist for any concerns. I sent her some photos and received immediate responses. I was very impressed, very impressed indeed. - The price included only one after-surgery appointment but they gave me two and did not flinch about it.
Travel Reviewer
2021-08-12
Always really good service. Professional. Clean. Great job. Highly recommend.
Tiger BJJ Team
2021-06-24
Highly recommend Reena is a lovely person always makes my visits enjoyable 9
Nicolas is personable, professional and most importantly, extremely good at bringing your feet back into tip top condition! I first saw him for an injured toenail 6 months ago and the difference in my feet now is amazing!